* At this moment these VIOLIN & VIOLA are not being made but will at a later time.
If you are interested please email me and I can put your name on a list and notify you when I do.
The most compact practice/travel instruments available.
Humidity, heat, and cold resistant
Quiet, pleasant acoustic tone
VIOLINS and VIOLAS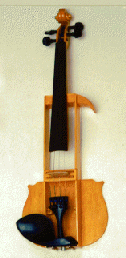 Would you like to practice late at night? Have you wished for a violin/viola that can go into your suitcase or backpack?
One of our instruments may be the answer. You can use it in a hotel room or your apartment late at night and still keep the peace.
It's one less piece of luggage when traveling. And it will not come apart in a humid environment, so you can use it in places where you would not or cannot take your good instrument.
The practice/travel violin can be packed in a suitcase or backpack. The longest individual piece is 15 inches long (16″-17″ for violas). It can be assembled in three minutes. It gets held and played just like an ordinary instrument.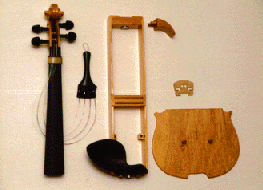 The tone is pleasant and quite audible, but much more quiet than that of a regular violin.
The practice violin's body is made of wood (mostly spruce). Neck, pegs, fingerboard, bridge, and tailpiece are all standard.
High-quality steel strings and an over-the tailpiece chin rest are furnished. Any of the usual shoulder rests may be used.
The disassembled parts are shown here. Strings remain fastened to the pegs and tailpiece to save time when the instrument is put together the next time.
The assembled violin can, of course, be carried in a normal case. It is shipped (disassembled) in a sturdy cardboard box.
What about the bow? A full-size violin bow is, after all, over 29 inches long.
 There are several solutions:
We can furnish a take-apart bow — it comes in two pieces which fit together in a few seconds. (This is a fiberglass bow with horsehair).
If you are traveling with a large enough suitcase, a regular bow may fit. Or you might use a 3/4 size bow, which is about 27 inches long.
You can take your regular bow in a bow case.
What does it cost? The prices (not including shipping) are:
 Violin $495.00  ~ Take-Apart Bow $85.00
Viola $535.00  ~ Take-Apart Bow $95.00
A few unsolicited comments from owners of a practice violin or viola:>
"I received the travel violin in perfect condition. It surpasses all my expectations concerning quality,playability, and ease of assembly."
---
"The travel violin has turned out to be just what I needed, and I am very pleased with it. It has often been difficult for me to carry a regular instrument on business trips … The travel violin fits easily into my overnight case … I found setting up the instrument very easy."
---
"The violin is lovely looking, and assembly was quite easy. The directions are very clear. The sound quality is unique and interesting … the volume is great for practice, loud enough to hear but not loud enough to bother anyone.
---
"I tried out my new travel viola. I love it! I told my husband I would go on a business trip with him only if I get time to practice. And guess what I am packing in my suitcase…"